Portable Aluminium Roadways, Temporary Runways & Helipads
Based on the Isle of Anglesey, North Wales, FAUN TRACKWAY Ltd is the defence division of Europe's number one municipal vehicle manufacturer, FAUN Zoeller (UK) Ltd.
FAUN TRACKWAY design and manufacture a range of high quality portable access systems for use in military and civilian disaster and emergency relief operations at its internationally accredited production facilities in the UK.
Unbeaten in all trials, its products are a trusted ally to 30 different militaries around the world. TRACKWAY® products are widely used in a variety of humanitarian and disaster relief operations, where rapid access to cut-off areas is essential. The utility and mining industries use TRACKWAY® products to explore areas where access would otherwise be impossible.
FAUN TRACKWAY employs a team of highly skilled engineers dedicated to exploring new product designs and working alongside future and existing customers to create bespoke solutions to their problems.
FAUN TRACKWAY is the successor of Laird (Anglesey) Ltd and has been producing military grade aluminium products in North Wales for over 60 years.
Company Details
Press Releases
Contact Company
Portable Aluminium Roadways, Temporary Runways & Helipads - 22/06/2018
HGMS EXERCISES AT SABER STRIKE 2018
The FAUN Trackway® team return from a week exercising with the NATO battle groups at Saber Strike 2018, Poland.
Our Heavy Ground Mobility System (HGMS) operated in support of the improved ribbon bridge (IRB) emplacement across Zly Leg Lake, Drawsko Pomorskie. Soldiers from the 341st Multi-Role Bridge Company positioned the bridge to enabled the Polish 12th Mechanized Brigade and U.S. 2-8 Cavalry Brigade to cross the Zly Leg basin during their combined manoeuvres.
The HGMS was partnered with Rheinmetall MAN Military Vehicles (RMMV) HX77, expediently laying M150 Trackway® to provide ground stability and access points. Both for the bridge installation, and on the bridging ingress and egress sustaining the heavy vehicle movements.
Saber Strike 2018 is the eighth iteration of the long-standing U.S. Army Europe-led, cooperative training exercise, to validate the collective capability to respond to and reinforce Allies in a time of crisis.
Carried out annually since 2010, the exercise operates at multiple sites with the U.S. leading the NATO battle group in Poland, while the U.K., Canada and Germany command three others in nearby Baltic states of Estonia, Latvia, and Lithuania respectively, where the other Saber Strike manoeuvres are planned.
FAUN Trackway® was proud to play a role in such a prestigious exercise.
We would like to thank the co-operation provided by the DSO Export Support Team, Captain Geoff Hill RE and WO2 James Collins RE, attending the exercise as operators and ambassadors from the British Army.
To view a video of the exercise and the HGMS in action click here.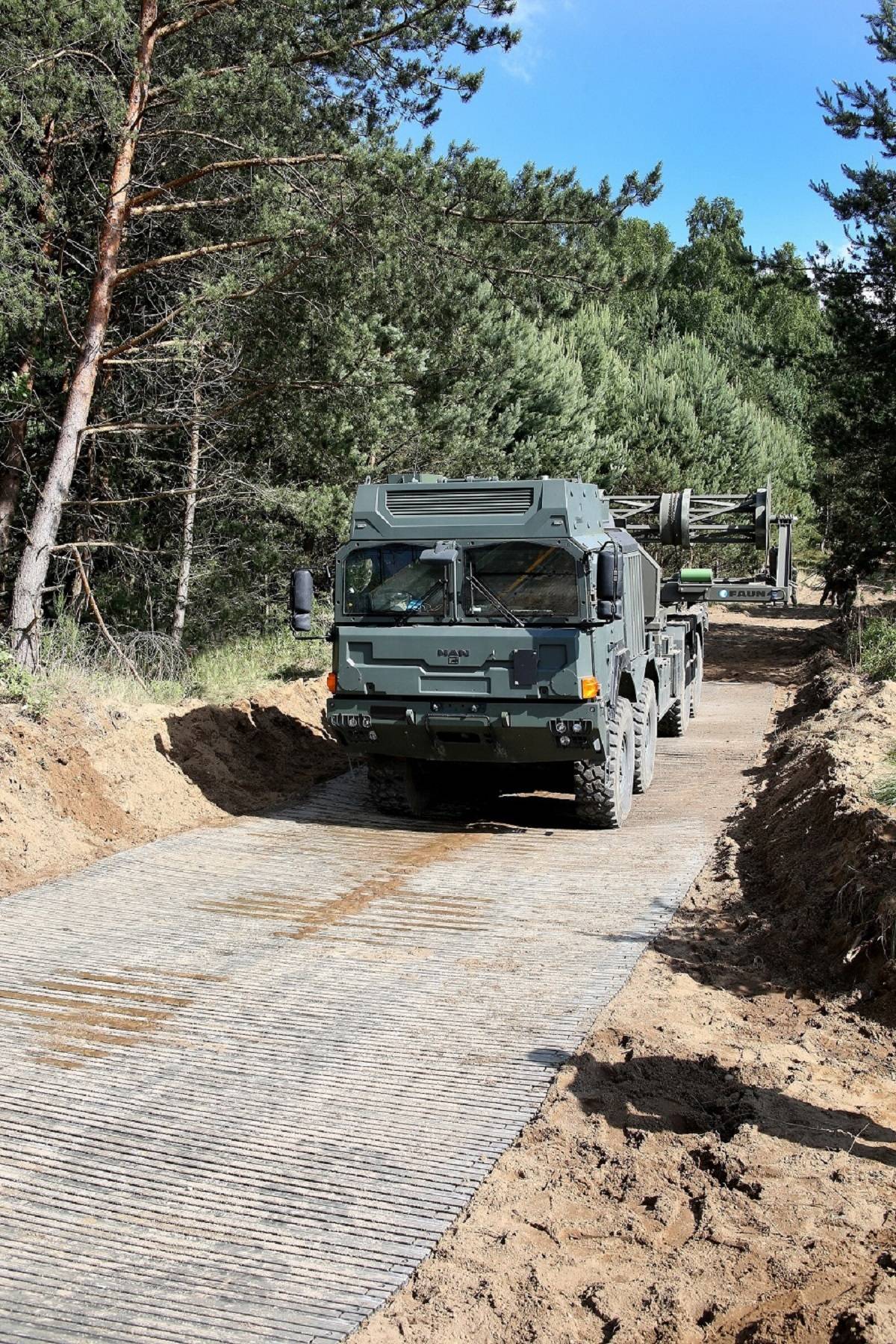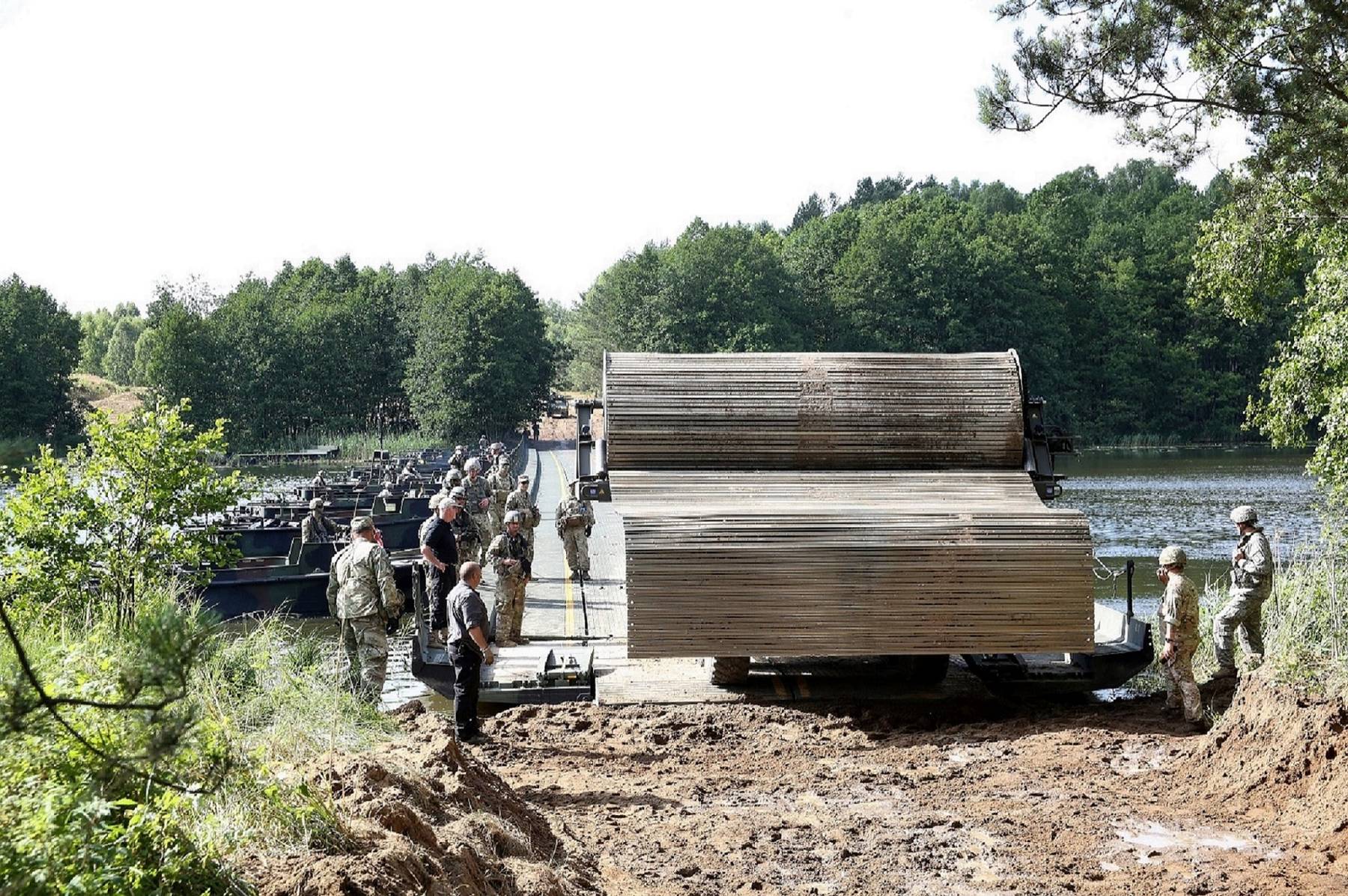 Photography courtesy of Nigel Spreadbury, Locations Photography Ltd.